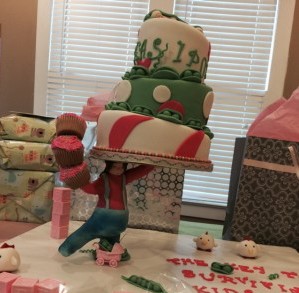 My Engineering background really shines through in my passion for Baking. When designing a cake its structural integrity is key! No matter how delicious the cake is, it will not look appealing splattered on the floor. Of course a solution is to stick with a simple single layered cake but where is the fun in that!? This desire to learn and understand the structural integrity of elaborate cakes led my interest into beautifully decorated cakes with multiple tiers that seem to bend and defy the laws of Gravity and Physics!
For those that need a cake for an Event-
I strongly encourage everyone to try making these cakes out for themselves! I promise you that it's not as hard as it looks and will leave you with a high level of satisfaction when it's done. I will post my own tutorial and pictures to tell the story of how to get to a cake that will leave your guests in awe!
However, very often someone who gets a glimpse of one of my cakes asks me to create a cake for them. Sometimes I do oblige these requests but there are a few stipulations.
I have never and will never charge a single dime for one of my cakes. Making these cakes are fun and are a creative outlet for me. I have no desire to monetize this process as I feel it will take some of the enjoyment out of baking!
I only do cakes with concepts that are new and excite me! While there are a few exceptions to this stipulation I would prefer to not make a cake shaped like a Knight's sword for example. But if you want a cake of a fire breathing dragon attacking a medieval castle then call me up!
The final design is up to me. I will certainly speak with you to hear your ideas and concepts for the cake but the final creation will be my own vision! That's part of my creative process that I enjoy, and hey… It's Free!
While my schedule is extremely busy, special consideration will be given to cakes for kids, nonprofits and events for a good cause. For example, a cake request for a kid who for whatever reason, has to spend his birthday in a hospital due to some sort of illness will get special consideration.
If you still think you would be a good candidate for a cake…drop me a line at admin@cajunfood4thought.com