Hey Hey Hey! I know it has been a long time since my last check in but I am back with a vengeance with a very special Blog post! We all know I am madly in love with New Orleans and we all know I love new opportunities for something unique and new in my beloved city! Readers and Subscribers I would like to introduce to you a new venture that embodies both of these in the PARLEAUX Beer Lab!
I recently has the opportunity to set down with the owners of the newest brewery in NOLA. Leah and Eric Jensen are about to celebrate the grand opening of "Parleaux Beer Lab" in the heart of the Bywater.
I consider both Eric and Leah locals as they easily pass my 10 year NOLA native test. (I jokingly tell people all the time you have to be here 10 years for me to consider you a local, it takes 5 years to even "Get it" and another 5 years to fall in love with it.)
I was invited to come and check out the new place for a sneak preview of the property they took ownership of a little over a year ago and interviewed these young entrepreneurs about their challenges and victories in making their dreams a reality. The end result I will simply say, you must see for yourself. It is everything you would look for in a classic New Orleans watering hole. The space which Eric describes as "Bywater Chic" has a ton of those rustic elements and touches that immediately make you feel welcome.
As you walk through the main brewhouse you will immediately sense that they took the time and effort to honor the space using elements from the historic past and blending it perfectly with the modern equipment that a commercial brewhouse needs. It really upsets me when developers don't pay attention to the inherent character of a structure or even a neighborhood as they follow the national trend to make everything look shiny and new. But I digress.
This brewery takes pride with their personal interaction with patrons as well as the community and will challenge what you think you like or don't like about beer. You would be surprised how many people do not quite realize how different a true craft beer is from the massed produced products you find at convenience stores. The flavors and strength can range so widely that Eric (The Brewmaster along with his Assistant Brewer and new buddy Chuck) prides himself on always offering an ever changing menu of beer that has introduced the wine and cocktail crowd into the pleasure of a nice brew that suits your personal pallet.
Food 4 Thought- I asked the couple separately what piece of advice they would give to anyone thinking of starting a new venture, project and any dream they have always had. Eric strokes his beard pondering the question and says "Don't be afraid to take a leap of faith" huge words as we sit in the brewery ready for all the waves that this endeavor will certainly bring. While Leah simply points at the sign handing over the brewing well and says "Just do it and 'Trust the process'" When you hit those snags you have to trust the process! I really like these two!
So come out and support these New Orleanians as they take a leap of faith to make New Orleans a more interesting place one beer at a time! The brewery is friendly and welcoming to all things – families, parties, food (they often have pop-ups and food trucks), and even puppy friendly, so there really is no bad time to stop by, have a drink or at least meet the staff!
Who knows, you may run into your favorite New Orleans Food blogger there sipping a refreshing pint of Gosa!!!
I couldn't resist adding this one of Leah being silly! Remind us all, that if you're not having fun, you aren't doing it right.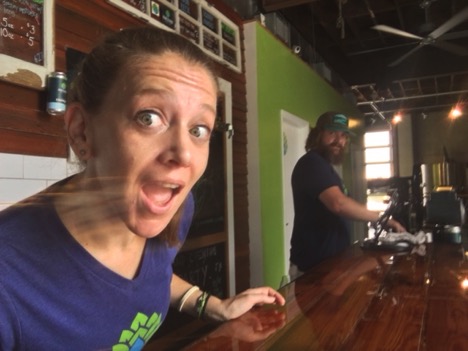 Until next time! Food (& Great Beer) is Love!
Don't forget to subscribe for E-mail updates!
Chef Tuck